Yesterday, Enable were announced as the winners Engage NSW Hackathon.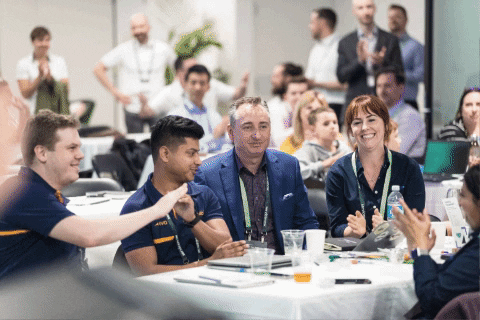 Competing against our ServiceNow providers such as KPMG, DXC Technology and Deloitte at Start-Up Hub for NSW Fishburners.
NSW Government is on a journey to digitally transform for the benefit of its Citizens.
A challenge was created, known as the NSW Hackathon and sponsored by the Minister for Customer Service, the Hon. Victor Dominello :
"Governments have to be brave enough, humble enough, and caring enough to ask for feedback in a way that is intuitive and easy – then act on this feedback to improve services" EngageNSW Hackathon – ServiceNow is running a hackathon on 29th October in partnership with The Minister and the Department of Customer Service for NSW to seek ideas on how to engage better with government.
The brief is simple:

Create innovative new ways for Government to engage with the community and deliver a better citizen experience.

The early start didn't phase our team who prepared to hack the brief and create a useful app.  Partnering with WaterNSW, Enable presented a framework focused on solving the problem statement below:
"How can we consolidate data sources, close the loop on community sentiment, highlight key issues and provide action with transparency for all citizens?"
After an intense building session and initial presentations, the 5 finalists were announced.
Pandas – NSW Police
Enabling Engagement – Enable Professional Services Partnering with WaterNSW
DPIE in the sky – Department of Primary Industry and Environment
Coasties – Central Coast Council
TM LAbS
The teams battled it out presenting clever and innovative ideas such as "kids skate park locator app" and a "water catchment area locator."
The win, however, voted by a panel of judges including; David Oakley, Vice President and Managing Director ServiceNow Australia,  the Hon. Victor Dominello MP, Minister for Customer Service, amongst others but the first place voting was unanimous and Enable took out yet another award.
Paul Thomason, Director of Strategy and Innovation mentioned,
"I am so proud of the Enable Professional Services team winning at the engage NSW government hackathon yesterday. Thanks to NSW Water who provided the team with key insights."
Great sponsorship and support by ServiceNow and Hon. Victor Dominello MP As with all our awards, it's truly a team effort with interstate and Sydney Enablers joining together to present their best efforts. Congratulations to all including James Taylor, Nicole Bailey, Jatin Aurora, Michael Cassidy, Davina Simpson, Paul Thomason, Chris Fenton and our graduate Ramya Devarasetty all adding value in their own way.